High resolution photos
Feb 26 – March 1. Talking & Props
Weld
Norrtullsgatan 7
Book: book.weld.se
Talking & Props, Fourth Edition, is a festival of performance works dealing with language in relation to specific movement practices – as material and sound, or as a song or a spoken narrative. As an in-depth study of the vocal technique growling, a polyphony of voices exploring voice beyond speech, a chaos poetic dream song and a slowly evolving subtle conversation amongst a ring of listeners.
Contributors: The Disengaged Free Jazz Orchestra (Kajsa Wadhia and Maria Stiernborg), Moa Franzén, Tove Salmgren and Kajsa Wadhia, Vida Midgelow and Jane Bacon (UK), Olivia Riviere and Lisen Pousette along a program in the foyer, curated by Anna Westberg.
Talking & Props is a companion to the movement based practice initiated by Weld Company since 2013, inviting choreographers to create work with the theme "No Talking No Props".
---
Talking & Props Schedule
Wednesday Feb 26
6 pm – 7 pm
Spells & Compost
Performance by & with The Disengaged Free Jazz Orchestra/Kajsa Wadhia and Maria Stiernborg
7 pm – 8.30 pm
Talking & Props soup in the foyer, with a programme by Anna Westberg:
coating the ridges of her gums v.3 / Alice MacKenzie (UK)

New work / Cara Tolmie
Benförteckning /Jesper Norda
Intoning II  / Vilhelm Bromander
Eyeballs fall / Anna Westberg
8.30 pm- 9 pm
From a throat of flesh
Performance initiated by Moa Franzén, created and performed by Moa Franzén, Tove Salmgren and Kajsa Wadhia
Thursday February 27
7 pm – 8.30 pm
BreathBone
Performance by & with Vida Midgelow & Jane Bacon
with music by Tom Williams
30 minutes performance followed by a discussion. NB limited seating.
Friday February 28
6-9 pm Creative Articulations Process (CAP) Workshop/Midgelow & Bacon
Read about CAP here
Saturday February 29
10 am – 4 pm
CAP workshop
9-10 pm
Ever losing
Performance by & with Lisen Pousette & Olivia Riviere
Sunday March 1
10 am – 4 pm
CAP workshop
---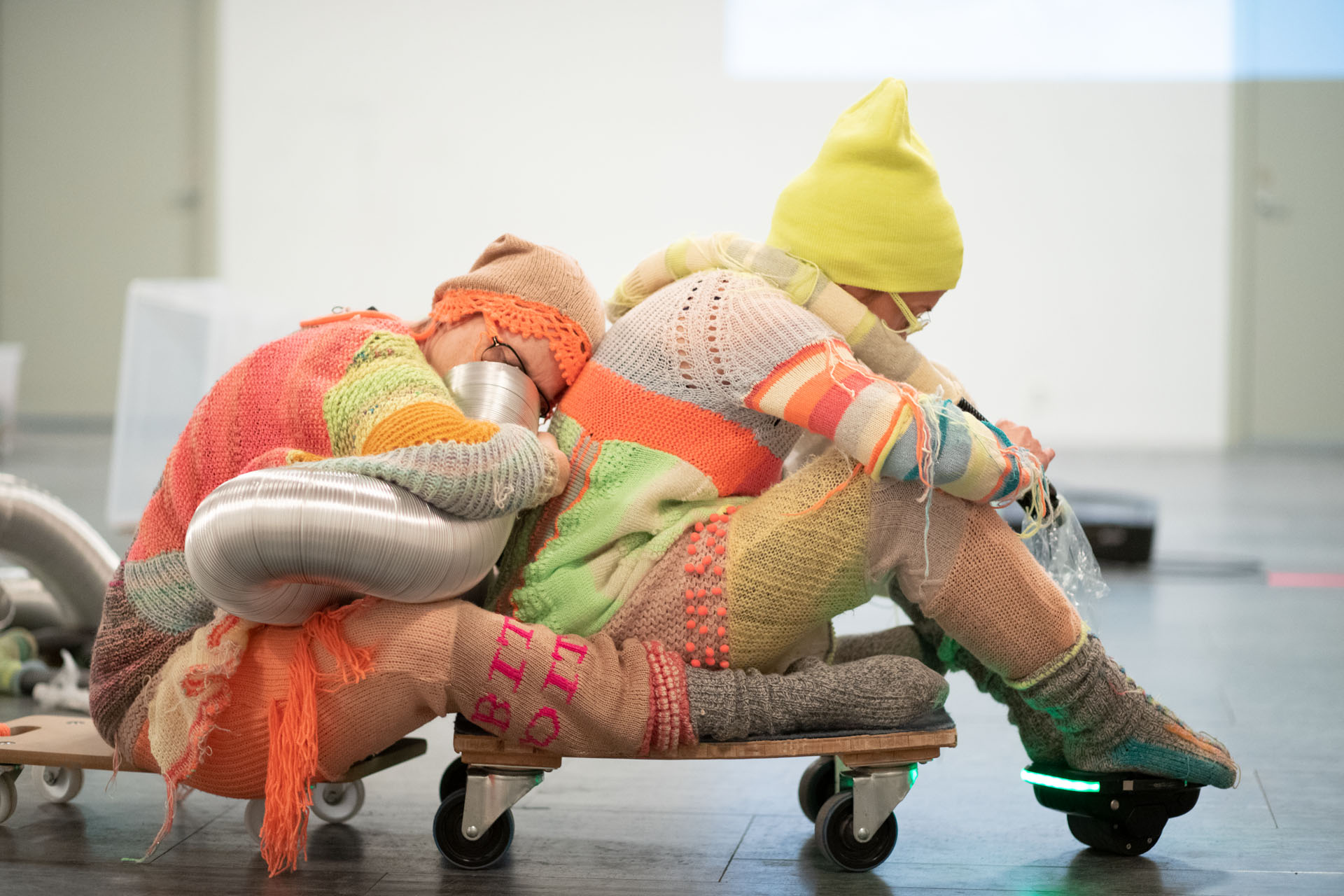 Photo: Pär Fredin
Spells & Compost
/ The Disengaged Free Jazz Orchestra/Kajsa Wadhia and Maria Stiernborg
With the work Spells & Compost the duo begins a new research, dreaming new dreams together, a project that looks into spells, speculative futurism and material eco criticism. Using the garbage room as prop storage, The Disengaged Free Jazz Orchestra experiment with homemade lo-fi instruments, live mixed video and their own untrained voices in a chaos poetic performance together with the multifauna that inhabit and share our lives and bodies.  Kajsa Wadhia and Maria Stiernborg are the people behind the performance duo The Disengaged Free Jazz Orchestra.

Thank you Moa Franzén and Anna Kinbom for dramaturgic conversations
Thank you Köttinspektionen Dans, Fylkingen and Studieförbundet Vuxenskolan for studio space and Stadsmissionen for donating material.
With support from The Swedish Arts Council
Spells & Compost premiered at Uppsala Konstmuseum November 2019
disengagedfreejazz.com
kottinspektionen-dans.se
---
Talking & Props foyer programme:
coating the ridges of her gums v.3 / Alice MacKenzie (UK)

new work / Cara Tolmie
Benförteckning /Jesper Norda
intoning II  / Vilhelm Bromander – kontrabas och röst
eyeballs fall / Anna Westberg
---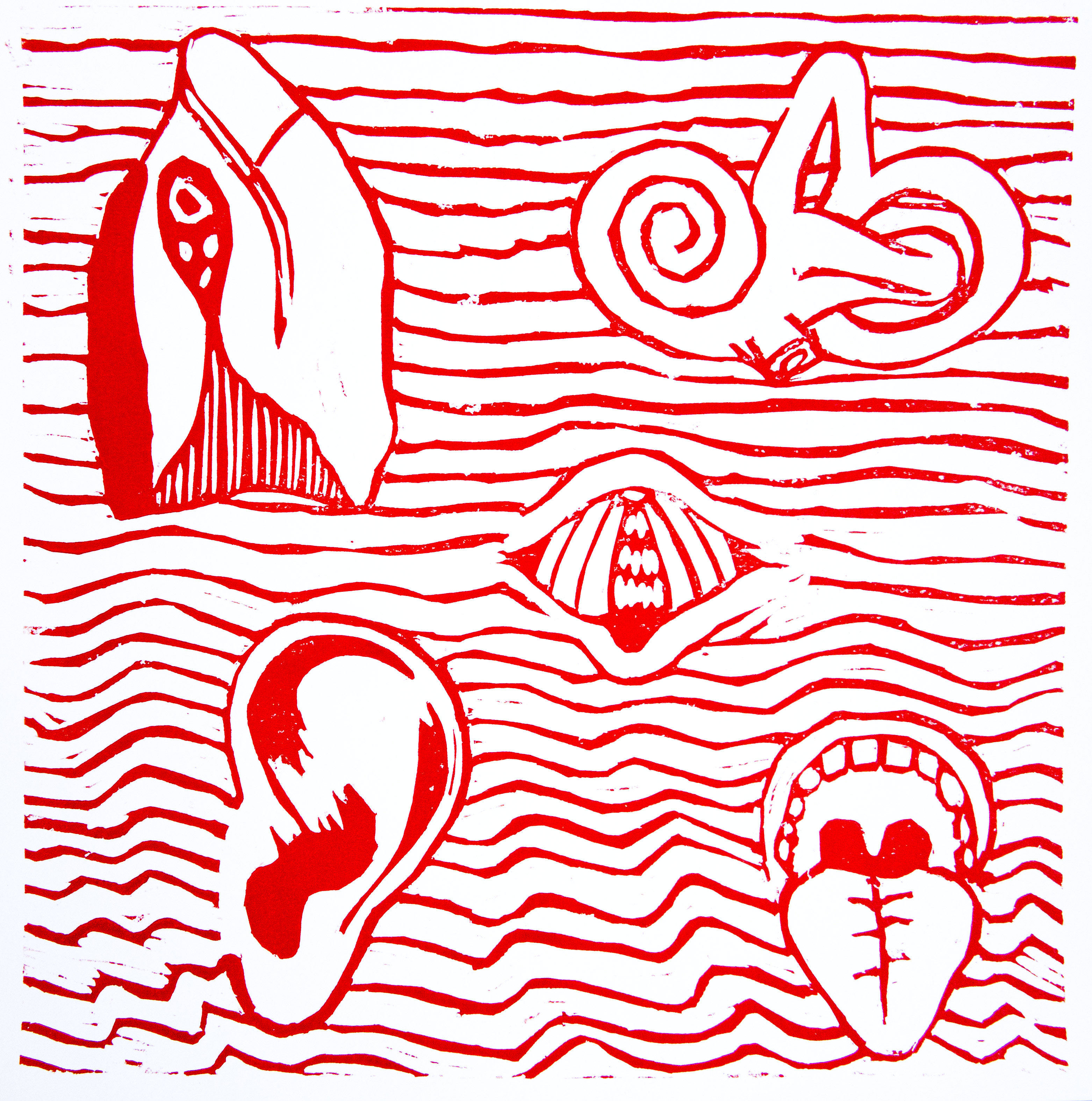 Woodcut: Magnus Dahl
From a throat of flesh
/ Moa Franzén
From a throat of flesh is a polyphony of voices exploring the voice beyond speech. We move through voiced expressions that, socially and historically, have been subject to acts of disciplining and "civilizing", taken as pretext to categorize people as barbaric, brute and hysterical. Our voices are our sounding flesh. A choir, but not for singing; voices, not speaking. We will howl, hum, bark and croon through the ideological landscape that speech and language has tied the voice to. 
Concept and initiative: Moa Franzén
Performed and created together with: Kajsa Wadhia and Tove Salmgren
Woodcut: Magnus Dahl
With support from The Swedish Arts Grants Comittee and Stockholms stad
Co-production: Köttinspektionen Dans
Premiered at Köttinspektionen Dans, Uppsala 2018
---

Photo: Vida Midgelow
BreathBone
Vida Midgelow and Jane Bacon
with music by  Tom Williams
Quiet, reflective and immersive, BreathBone creates spaces of encounter for heightened inner awareness. Audiences are invited to enter an intimate performance duet by Vida Midgelow and Jane Bacon, where gesture, voice and sound generate an evocative and meditative experience. This improvised choreography of the felt sense brings us closer to what it is to be human, giving voice to interior spaces of flesh, the immediate present and the phantasmic.
Following the performance, we invite you to join us in a discussion about performances and contemplative practices.
Each attendee will be gifted a score so they might continue to practice.
Supported using public funding by the National Lottery through Arts Council England, Dance4 and Middlesex University.
Together, Professors Jane Bacon and Vida Midgelow co-edit the hybrid peer reviewed journal Choreographic Practices and co-direct the Choreographic Lab.
They are currently an associate research artist at i4C4/ Dance4, UK.
---

Photo: Sophie Pousette

Ever losing
/ Olivia Riviere och Lisen Pousette
Ever losing is a duet that moves within broken time, re-entering past experiences in order to live with current losses.
With a background in choir singing and a shared interest in working with voice practices, Olivia Riviere and Lisen Pousette's work departs from growling: a dark and aggressive male-coded vocal technique used in music styles such as death metal and grindcore. By breaking away from the stereotypes of metal music and its aesthetic clichés, the sound is twisted into relational images such as the hug, holding hands, dancing cheek to cheek – all elements of duality, twosomeness, friendship and lesbian love.
The idea of the broken permeates the piece, whether it is broken language, broken time or broken as in being indebted.
When death takes something from you give it back. – Naja Maria Aidt
Ever losing resists moving on or getting through. It stays at the site of loss and keeps returning to the loser's, the broken one's, position while listening to the sound of broken bodies.
Or, it is just two losers dancing in the break.
Choreography and performance: Lisen Pousette and Olivia Riviere
Sound: Karis Zidore
Sound design: Kristian Alexander
Costume consultance: Tove Dreiman
Light consultance: Jenny Larsson
Photos: Sophie Pousette
Thanks to Anna Efraimsson, Malin Arnell, Ulrika Berg, Tamara Alegre, Austeja Vilkaityte, Oda Brekke and Sara Gebran 
Ever losing premiered at Fylkingen, Stockholm, February 2019.
---
Featured artists
Kajsa Wadhia (SE)
works as an artist and curator in the fields of performance, text and choreography and holds an MA in New Performative Practices from DOCH, Stockholm University of the Arts, 2015. Together with Maria Stiernborg she forms the performance duo "The Disengaged Free Jazz Orchestra" developing an experimental artistic practice dealing with neoliberal capitalism, precarious working conditions and the artist as worker. Between 2007-2014, she worked with, and co-directed the performing arts collective Arena Baubo. Since 2016 she co-directs Köttinspektionen Dans with Tove Salmgren, an artist run platform for experimental dance and performance practices.
Maria Stiernborg (SE)
Applying techniques such as performance, textile and text, Maria Stiernborg investigates resistance to flexible and precarious working conditions. From an anti-relational position, she looks for lines of flight leading away from demands of efficiency and constant presence. In an over productive and semiocapitalist machinery her main concern is how art can be as useless as possible and how that practice can communicate with an audience. Maria Stiernborg holds a BA degree in set and costume design from Stockholm University of the Arts and an MA degree from Konstfack, Art in the Public Realm. Since a few years she is directing the art platform Förlaget in collaboration with Ludvig Uhlbors and the performance duo The Disengaged Free Jazz Orchestra together with choreographer Kajsa Wadhia.
Weld is supported by Stockholms stad, the Swedish Arts Council and Region Stockholm
Alice MacKenzie (UK/SE)
is a dance artist based in Stockholm. A fan of queer feminist science fiction and science studies, her work enfolds fiction, poetry and dancing along with scent extraction, fermentation and sound(ing) as possible ways of meeting, of intimate intra-action. Alice has worked in performance and research projects with artists including Siriol Joyner, Ina Dokmo, Dora Garcia, Eleanor Bauer, Harriet Plewis, Cally Spooner, Tino Sehgal, Yvonne Rainer and Oreet Ashery. She also works alongside other artists and organisations making books, films, performances and installations in a range of settings, including a long-term residency in a school and another in an elderly care home. Originally from London, Alice graduated from the BA (hons) Dance Theatre at Laban in 2007 and in 2019 she completed the New Performative Practices Masters programme at DOCH.
alicemackenzie.blogspot.com
Cara Tolmie (UK/SE)
works from within the intersections of performance, music, artistic research and moving image. Her solo works explore different ways of disrupting the affective economies revolving around 'The Singer' through various uses of the defamiliarised, uncanny and sampled singing voice. Collaboration is a contingent aspect of her ongoing practice both in the making of works as well as more expanded research projects. She has recently worked with Stine Janvin, Zoë Poluch, Kim Coleman, Will Holder, Seymour Wright, Paul Abbott in group ULAAPARC, on artistic research projects Gender of Sound with Susanna Jablonski and The Glossary of the Event with Frida Sandström and Aleksei Borisionok. She is currently a doctoral candidate in Critical Sonic Practice at Konstfack, University of Arts, Crafts and Design, Stockholm conducting artistic research project Listening to the Displaced Vocal Body. This project looks to performance practices that disrupt the continuity between the voice and body as a fixed singular entity and explore what experimental listening relations might emerge as a result of this figure.
Vilhelm Bromander (SE)
is a bass player, improviser and composer based in Stockholm. He embraces his bass from many different angles, with a great curiosity about sound, texture, intonation and timbre. Often he directs his focus to acoustic details such as beating, common partials and difference tones – to hear what happens with our perception when we allow ourselves to be immersed in sound for a longer stretch of time. He draws inspiration from a wide variety of genres such as improvised music, jazz and electronic music as well as his studies of just intonation and dhrupad. Vilhelm has a master in double bass and composition from KMH in Stockholm and UDK in Berlin and has participated in the artistic research project music in disorder, investigating collective improvisation and co-creativity from the basis of process philosophy and nomadology.
Anna Westberg (SE)
is a dancer with a fondness for humming, hemming, mumbling and writing somatic text. She has curated the foyer programme for this fourth edition of the festival Talking & Props.
Moa Franzén (SE)
is a performance artist living in Stockholm. Her work encircles choreography and writing as interrelated practices, with a special interest in voice as choreographic material and expression. The relation between rethorics and ideology, power and vulnerability, and performer and audience is often in focus in her works. Franzén holds a BA in visual arts from The Royal Institute of Art in Stockholm and  Kunsthøgskolen in Bergen and an MA in New Performative Practices from DOCH.
Tove Salmgren (SE)
works in the field of the performing arts as a dancer, choreographer, curator and educator. As an artist she's attracted by challenging and absurd moments, pretentious and generous structures, emancipatory gestures, the complex and the naive… In 2015 she graduated with an MA in choreography from DOCH (NPP). Since 2016 she co direct, together with the artist Kajsa Wadhia, Köttinspektionen Dans, a platform and venue for experimental dance and performance in Uppsala. She's employed as Lecturer in Performative Practices at the Dance Department, SKH (Stockholm University of the Arts).
Jane M Bacon (UK)
Dance Artist/Academic, Jungian Analyst, Focusing Trainer and Teacher of the Discipline of Authentic Movement. Jane Bacon is Emerita Professor Dance and Somatics at University of Chichester and lives in Northampton, UK. She has over 30 years of experience facilitating and lecturing in dance and performance and over 15 years experience as a psychotherapist and Authentic Movement teacher. Her work in both the arts and psychotherapy focuses on finding ways in which we can 'articulate something' of and from a creative and personal process. Her performance/installation work combines her understanding of and respect for conscious embodied awareness with somatic practices. She is committed to challenging contemporary myths of dancing, spirituality, womanhood and feminism in all her endeavours.
Vida L Midgelow (UK)
is Professor in Dance and Choreographic Practices at Middlesex University and lives in Derbyshire, UK. As an artist scholar she works on Practice as Research methodologies, improvisation and articulation processes and has published widely in these areas. Her practice includes somatically informed improvisational works, performative lectures and installation/experiential performance practices/video works. She is editor of the Oxford Handbook of Improvisation in Dance and is principal researcher for the Artistic Doctorates in Europe project www.artisticdoctorates.com (EU funded). She is a committed educator and mentor, undertaking dramaturgical, curatorial and consultancy roles for artists and organisations.
Lisen Pousette (SE)
is a choreographer and dancer based in Stockholm. She has a BA (dance) from ArtEZ, Arnhem, and received her MFA (choreography) from DOCH in spring 2019. Lisen is one of the initiators and organizers of POSSE dance- and reading, currently meeting at c.off. It is an open-ended study circle for practitioners within contemporary dance and other curious ones, which engages with critical practices and with generating discourse through doing. Apart from all participants and hosts involved in POSSE, artists that have become intrinsic to her work as collaborators are Ellen Söderhult and Olivia Riviere. Lisen also plays drums in punk- and black metal band Moddervarken.
Olivia Riviere (SE)
is a dancer and choreographer based in Copenhagen. Since receiving her diploma from 'The Danish National school of Performing Arts' (2015) she has been involved in DANSEatelier – a place and a group of 11 performing artists. They work with a rhizomatic structure and through coexisting with dance.  Olivia frequently collaborates with choreographer Lisen Pousette, visual artist Anna Moderato, and musician/choreographer Karis Zidore, exploring material aspects of feelings, objects and extreme voice techniques and their influence. Together with Karis Zidane she teaches choreographic sound compositions at the Royal Danish Academy School of Architecture and Rhythmic Music Conservatory. Lately she has been working with artists such as Sara Gebran, Marie Topp, Quim Bigas, Ea Verdoner, Robin Johnsson and Anders Paulin in the 6-year project PIM (Para-Institutional Model).